There's a new Pinterest feature in town, and it's been a long time coming!  You can now log in to multiple Pinterest accounts right from your pinterest.com dashboard, and toggle between them just like you can multiple Google accounts!
Whether you have a personal account and a business account, or you manage multiple business accounts, you no longer have to log out and back in again to check each one separately… hallelujah!
Logging in to multiple Pinterest accounts at once
Add a 2nd account to your Pinterest dashboard
To log in to a 2nd Pinterest account, you first need to add it to your current dashboard.  To do this, click on the 3 dots at the top right corner of your dashboard, and select Add Account.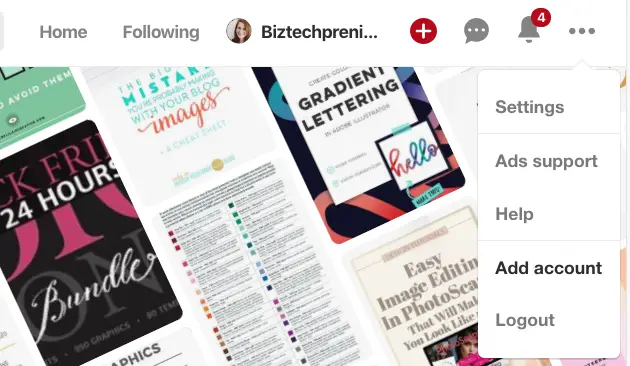 Log in to your 2nd Pinterest account (or sign up for a new one)
Now just log into a 2nd Pinterest account just like you'd log in to Pinterest normally, or if you don't already have another account you can register for a new one. Now you'll have 2 accounts added to your dashboard, and you'll be able to switch back and forth with the click of a button!
Switching between multiple Pinterest accounts
Now, when you click on the 3 dots at the top of your Pinterest dashboard, you should see Switch Accounts instead of Add Account, like this: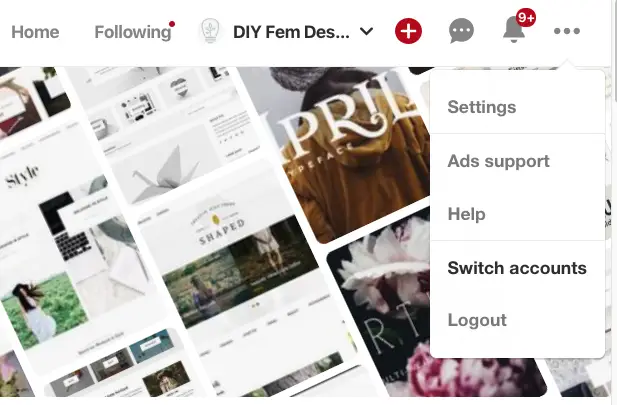 When you click on Switch Accounts, you should see a popup that will allow you to toggle between the accounts, like this!
The account that is currently selected is showing at the top, and to get back to my Biztechprenista account, all I have to do is click it!
Optionally add additional Pinterest accounts
If you want to add more than 1 account, you'll now do it in the popup window shown above by clicking Add account at the bottom of the window, and repeating the process of adding a new account.  Currently you can add a maximum of 4 total accounts to 1 Pinterest dashboard.
Wrapping Up
And that's it!  I hope this simple tutorial will help you save you many Pinterest switching headaches!