If you've ever wanted to create an ebook or other PDF with a clickable table of contents, but couldn't figure out the clickable part (or formatting the dang thing just got too time-consuming), I hear ya — and this post is for you!
I just discovered a new tool that not only helps me create and nicely format a simple PDF guide quickly and easily, but it automatically creates a clickable table of contents for me as I add headings, much like the table of contents for this post (a few paragraphs down)!
Now, the tool is in its early stages and there are features that I would really love to be added (I've already emailed the creator Oliver, and he's very open to feedback!), BUT even as-is, I still think this tool is worth it's weight in gold, and it's a really affordable one-time fee!
In fact, as I write this there's currently a lifetime deal on Appsumo for this tool, so be sure to check and see if it's still available!
But even if the Appsumo deal is ended, you can still get it for a great one-time price through this link.
Easy + Affordable Tool to Create a PDF with Table of Contents Links
So the tool I'm so pumped about is called MonsterWriter, and it seems to be primarily meant for scholars to write a thesis or another fancy paper, with the ability to add references, a bibliography and more.
But for my purposes, I also think it's perfect to create a simple, clean ebook or PDF guide as quickly as I can create a blog post!
And with the clickable table of contents, its also perfect for creating a longer ebook thats easy for the reader to navigate!
Grab the Limited-Time Deal on MonsterWriter Now!

*Deal ended? You can still get a great price here.
What a MonsterWriter Document Looks Like
Here's what the inside of a MonsterWriter document looks like in editing mode, with the table of contents enabled in the sidebar (you can disable this however, for an even cleaner writing space):
And here's what that same document looks like as an exported PDF, using the Article Simple export option.
In this example I exported with Avenir Font, Size 11 with 1.5 line spacing: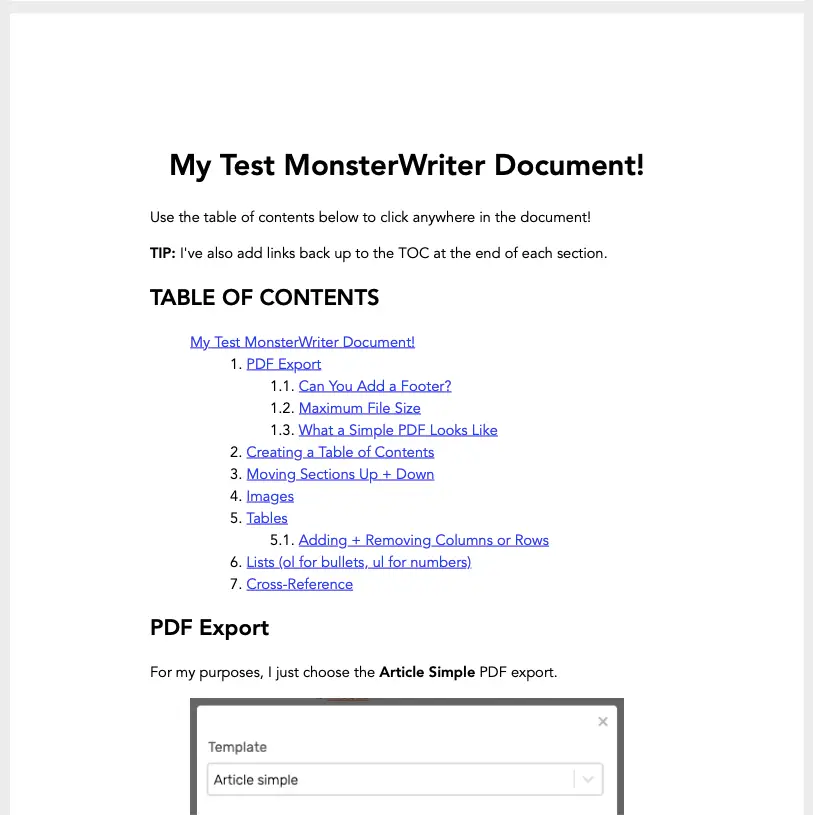 Grab the Limited-Time Deal on MonsterWriter Now!

*Deal ended? You can still get a great price here.
MonsterWriter Features I Love for Simple Ebook Creation
Before I show you HOW to use this tool, let me first give an overview of the features (as well as a few it's currently missing), so you can better decide whether or not this tool can meet you PDF creation needs.
Clickable Table of Contents
Of course, the clickable table of contents is the main pint of this post, and one of my favorite features! There's no need for another tool to add a TOC to your PDF later, you can place it wherever you like in your document, and it automatically updates for you as you add new sections, which is not only convenient for the final product, but also helpful while you're writing!
You can even add links to jump back to the table of contents throughout your document (though currently you can't customize how this link looks — I'll get to that later.
Speed + Ease of Use
Once you get a feel for the basics of how it works, I found it to be really simple and FAST to get my content idea drafted and organized as I went, as the table on contents, and interlink reference numbers (I'll get to that in a sec) updated automatically as I added new sections and moved things around.
It was similar to writing a post in the WordPress Gutenberg editor, but even a little more intuitive, more done-for-me formatting and a less-cluttered space to write.
Overall the tool is very intuitive, and the default document is an easy-to-follow quickstart guide to help you get started.
But there were a few things that tripped me up at first, so I'll be sure to share my solutions + tips below so you can get rolling even quicker than I did!
External HyperLinks
This one is a given with most any method of creating PDFs, but the ability to easily add links to outside sources (even if only your website) is a necessity, so I figured it's worth mentioning.
Internal Hyperlinks (Cross-References)
As I've already hinted, not only can you add links to your table of contents throughout your document, but you can also link to any other element within the document, such as a heading, an image, or a table!
Auto-Image Formatting + Optional Captions
I like that I can add an image anywhere in my document via drag and drop, and when I export to PDF, the image will automatically be center-aligned, and have about a half-inch indentation to the left and right (unless the image is too small, then the indentation will be larger so as not to stretch out the image too much and cause it to look blurry).
This auto-formatting feature may seem simple, but I was surprised how much time I can actually save creating content when I don't have to worry about manually re-sizing or compressing my image files to make them align nicely!
Also, I can add a caption under the image (especially useful if planning to interlink directly to an image), or disable the caption.
Easy Tables
I often like to create comparison or features table within my content, so I love that MonsterWriter has a simple built-in table creator, that auto-sizes itself to fit the document!
I can also add hyperlinks within the table, which is particularly useful when comparing features between 2 products.

Bulleted + Numbered Lists
Another simple but very useful feature!
Basic Design Customization
Though customization options are currently limited, there is a pretty good font selection, and you can set the overall font size and line spacing.
Grab the Limited-Time Deal on MonsterWriter Now!

*Deal ended? You can still get a great price here.
MonsterWriter Features (Currently) Missing for Ebook Creation
As I mentioned, this is a newer tool, and was not primarily intended for creating ebooks and PDF guides for marketing purposes. So, there are some features that I wish were included that currently aren't, BUT the owner is very open to feedback, and I have some workarounds for a few of the missing features!
Full-Page Cover Image (or Full-Width Image Option)
While certainly not necessary to create a professional-looking PDF guide, I'm sure many content marketers would love the ability to add an image to the first page that spans the full width and height.
This isn't currently an option, but Oliver already seems open to adding this in the future, and for the time being here's my workaround:
After some playing around with image sizes, I found that adding an image right at the top of the document with dimensions of 1000W x 1900H, or 2000W x 3800, etc. will fill the space from top to bottom and force any content below the image onto the 2nd page.
Of course, the image will appear very tall and narrow, with thick white margin all around the sides, so an image that has a graphic or fancy text with a white or transparent background might look nicer than a solid-colored image to fill the space.
Though not currently an option (at least not with the Simple PDF export), Oliver seems open to adding this as well! While also not necessary, it would be nice to be able to add a site link and copyright info at the bottom of pages, as well as page numbers for longer ebooks or guides.
Custom Color(s)
By default all text in an exported PDF is black, and hyperlinks are blue. This is not a dealbreaker for me, but it would be nice to at least, say, set a custom color for the hyperlinks to match my branding.
Of course, it's easy to include additional on-brand elements by adding your own images.
Force a Page Break / White Space
While the formatting looks pretty nice out of the box, one thing that you might want to be able to tweak is to add some white space between sections, or, to be able to force a section onto the next page.
For instance, I find it makes me squirmy (lol) when a section heading ends up at the bottom of a page, but the content for that section ends up on the next page. It would be nice to be able to click a button to force the heading onto the next page with its content.
Still, I came up with a pretty simple solution to this: adding my own white space with an image!
I created a white (actually a transparent) PNG that's 100 pixels tall. If I want to add space between sections, or push a piece of content down in the document, I simply add 1 or more blocks of this image in between!
I also created a simple line image that I can use as a visual separator, in lieu of the white space.
Maximum Export File Size of 4MB (Unless Connect Another Tool)
To be honest, 4MB is PLENTY for 99% or projects. Still, it would be nice if the file size limit for a simple export could be raised to give a little more wiggle room.
Grab the Limited-Time Deal on MonsterWriter Now!

*Deal ended? You can still get a great price here.
MonsterWriter QuickStart Tips
As I mentioned earlier, when you first open MonsterWriter there is an easy-to-follow document already inside that gets you started will all of the basics.
However, there were a few things that tripped me up at first, so I wanted to share what I figured out here:
Moving MonsterWriter Sections Up or Down
To move a section up or down, click on the section, hold down the Command key, and use the up/down arrows.
Adding or Removing MonsterWriter Table Rows + Columns
To add or remove rows and columns from a MonsterWriter table, click into a cell and use Command-i. Then choose one of the +Col, -Col, +Row, -Row options that pop up.

Adding + Formatting Images in a MonsterWriter Document
To add an image, you can simply add an image section, then drag and drop the image into the document.
*TIP: Make sure to crop out white space on the sides of an image if you want to use a caption, as the caption text will align with the left side of the image. Otherwise it the alignment will look a little weird.
MonsterWriter Simple PDF Export + Basic Text Customization
If you're wondering where to customize the font and line spacing, you don't do that until you're ready to export to PDF.
For my purposes, I just choose the Article Simple PDF export.
Then I click Configure Export and select the Font tab. 
Here I can select the font family, font size (currently only 10 – 16) and line spacing.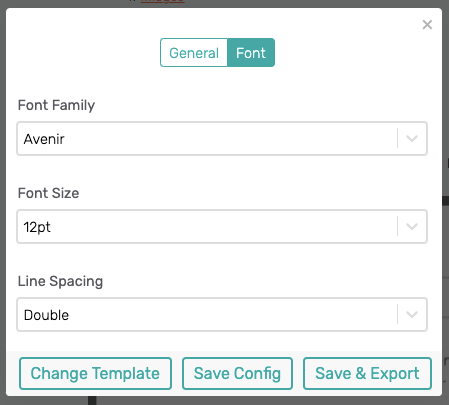 When I'm done, I click Save & Export.
Conclusion
Overall I think MonsterWriter is a perfect tool for most content creators to quickly and easily create simple but professional-looking PDF guides and ebooks with a clickable table of contents to grow their email list, or even to sell! However, it's not quite ready to include a bunch of bells and whistles, or to create a super fancy and branded PDF (though I'm excited to see what updates the creator may include soon).
Grab the Limited-Time Deal on MonsterWriter Now!

*Deal ended? You can still get a great price here.
To create a truly custom gorgeous ebook, you might want to look into using Canva, a free design tool with lots of built-in ebook templates.
You can do a lot more with your design using a tool like Canva than you can with MonsterWriter. However, even with a template, creating a clickable TOC (or TOC in general) and placing the content in will likely be a much more manual and time-consuming process.