Want to Uncover Hidden Stats About Your Pinterest Pins (... and Your Competitor's)?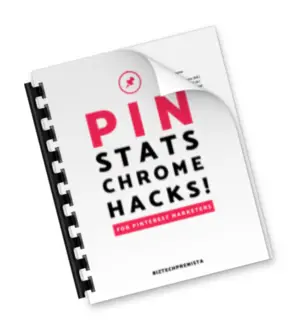 IN
PIN STATS CHROME HACKS™
YOU'LL LEARN:
Enter your email to claim your FREE cheat sheet, plus periodic tips + offers from Biztechprenista you'll love! Unsubscribe any time.
What is Pin Stats Chrome Hacks™?
So glad you asked!
It's a quick and dirty cheatsheet (PDF) compiling shortcuts to the most helpful data I could find hidden in the source code of a Pinterest pin (viewable in the Chrome browser).
If the word "code" just stopped you in your tracks, DON'T PANIC! 🙂
I've done the hard work to pinpoint (hehe) each piece of data, and I explain how you can easily jump right to any of the data you want to find!
Do I Need Expensive Tools to Use These Hacks?
Glad you asked that too — and not at all!
All you need to find these hidden stats is a desktop computer (or I assume something like a Chromebook would work too, but I can't be certain) and the Chrome web browser (which is free)!
I already have the paid version of Tailwind - Will These hacks Still Help Me?
The paid version of Tailwind does have some great analytics available to you, including a few things that I haven't figured out how to find with Chrome — at least not easily. (Here's my affiliate link, if you'd like to try Tailwind for FREE with no time limit, up to 100 scheduled pins!)
However, there are also a few things that can't be found in Tailwind that CAN be found with these hacks, including the total aggregate number of repins for one of your pin images (even the stats you see above one of your pins on Pinterest only show up to 90 days in the past), or any stats on OTHER people's pins, not pinned to your own account. 
I personally use and love Tailwind myself, and I still use these Chrome hacks all the time!
Will this show me how to view number of link clicks on Pins?
Unfortunately, there doesn't seem to be a straightforward way to view any helpful pin click data via Chrome at this time, but if I can figure out a way to make it useful I'll add it (at no additional cost to you, of course)! Anything you can see about clicks in Chrome does not appear to be visible when viewing other people's pins anyway.
For long-term click stats on pins to your own site, your best source of info is your Google analytics.
To find your most recent pins with the most clicks, you can also check you analytics on Pinterest.com, and/or the Top Pins tab in Tailwind.
Misc Terms + Disclaimers:
Need Pin Stats Chrome Hacks in your life?