NOTE: Free plans + free features are subject to change at any time, at the discretion of each individual service. Some free plans may also have limitations, so make sure to double-check what's included currently.
Also, this is a MEATY post, so feel free to use the In This Post links below to help you navigate 🙂
First Things First: YOU SHOULD Pay For Some things!
There are a LOT of things you can use for free to start and grow your blog on a budget! However, bare minimum there are 1-2 things you should ALWAYS pay for! Since this post is about freebies, I don't want to take up too much space with the things you should pay for at the top here, but if you want to check them out just keep scrolling through to the bottom, or you can jump right to them now.
Now, onto the free stuff! 🙂
Free Resources for Getting a New Blog Set up
If you're new to blogging and need some guidance with the tech side of getting it set up, here are a couple of free resources to get you started on WordPress:
Free Blogging Sites (Platforms) for Beginners
*WordPress.org (typically installed via your web host)
While WordPress.org is open source and totally free to all, keep in mind that you'll still need to purchase web hosting, as I mentioned above. However, WordPress.org is the only blogging platform that I can actually recommend, despite it having the biggest learning curve.
While you might find yourself getting frustrated and overwhelmed as you're first trying to figure out how to set everything up and choose from endless options (psst… that's what this list is for — to help you steer clear of time-wasting duds!), I really think it's the best foundation and long-term solution for most biz bloggers.
However, if you're just not ready to dig in and learn the tech stuff, or aren't in a financial position to pay for your own hosting yet, I say it's better to start on a different platform rather than not start at all! Just know that you might find yourself wanting/needing to switch down the road, which can be its own source of frustration.
Weebly
After my initial overwhelm with WordPress years ago (see below) I actually started on Weebly, before finally switching back to WordPress.org (with Siteground hosting) about a year later. Other than WordPress.org, this is the platform I personally have the most experience with. I honestly was happy with it for the most part, and it was fairly easy to set up. I was able to customize my theme with custom code to make it look exactly how I wanted. However, I ultimately found Weebly's blog writing and promotion capabilities too limiting, which is why I decided to switch back to WordPress.org.
Other Free Blog Platforms:
NOTE: Many of the other tools I'll be sharing here will be specifically for the WordPress.org platform, since that is what I use and recommend long-term to any serious blogger.
Free WordPress SSL Certificate *Essential in 2020!*
Let's Encrypt Free SSL Certificate – An SSL certificate is absolutely essential for your blog these days! It's so important that I gave it it's own section!

An SSL certificate adds a layer of security to your site that helps protect your readers' private info. It also adds the "httpss" and the little padlock icon to the beginning of your blog url (the "s" stands for secure). Not only does this make your readers feel more secure, but if you DON'T have an SSL certificate, readers may not be able to access your site or certain pages at all, and instead will be shown an ominous warning sign… yikes!
*TIP: A good web hosting company like Siteground will include a Let's Encrypt SSL certificate for free, along with an easy way to install it.
Best Free WordPress Themes for Bloggers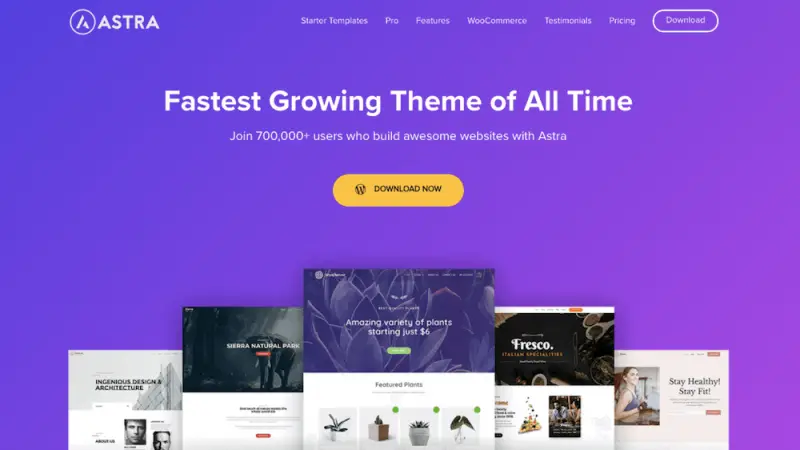 Check out the free Astra theme ➝
In order to display your blog on WordPress, you'll need at least a basic theme. There are a LOT of free WordPress themes out there, but before you go browsing the WordPress repository installing and testing pretty but slow, difficult to customize, poorly-coded themes for hours on end, here's a word to the wise:
Whether free or paid, a theme should be FAST, lightweight, easy to navigate and set up, and ideally built to work well with a page builder, which I'll get to in a minute. It should also have the ability to expand with paid features in the future, should you ever decide you need them.
Basically, a good theme should provide you with a solid and well-supported foundation from the start, with the flexibility to grow with you as needed! Oh, and it shouldn't impose its own branding or links in your footer or anywhere else on your site!
Astra Theme
Astra is the theme I use on Biztechprenista.com, along with the paid Astra Pro addon. However, it is a solid, minimal, fast theme without the addon, perfect for working with a page builder plugin (more on that in a bit).
I love that Astra doesn't require you to link to the theme creators in your footer (like so many free themes do) and to help you get started with a customized, pro design right away, there's a free add-on plugin with ready-made page builder templates!
More Solid Free WordPress Themes:
Free WordPress Design Tools (Plugins):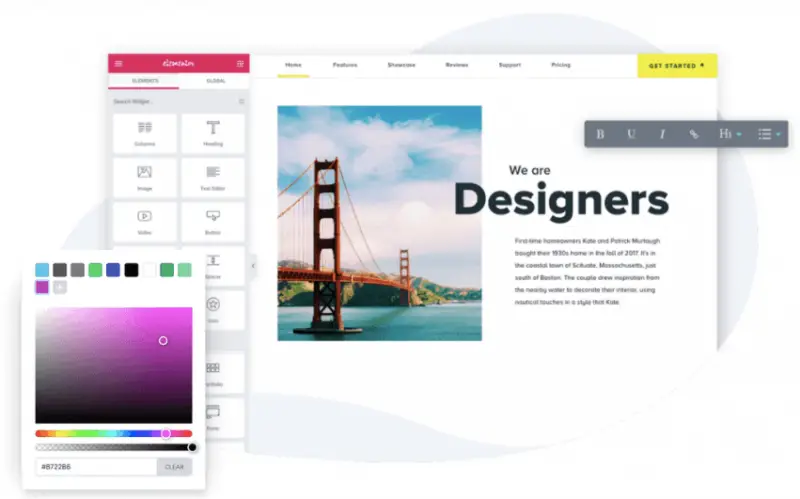 Elementor FREE page design plugin for WordPress ➝
Essential Free WordPress Plugins
Free WordPress Security Plugin – Full disclosure, I use a paid security plugin for all my sites. I've yet to find a free security plugin I didn't find clunky and confusing, but it's one of those things where I say "free is definitely better than nothing!"
Here are a few popular free WordPress security plugins to check out:
More Awesome Free WordPress + Website Tools
Free Image Optimization WordPress Plugins
As I just mentioned, image compression is super important for page load speed, which not only improves your visitor's user experience, but is essential for ranking in Google search. If you prefer to go the plugin route, here are a few of the best free image compression and optimization plugins:
Free WordPress SEO Plugins

My favorite free SEO plugin, SEOPress ➝
To be clear, an SEO plugin won't actually do much to help you rank on Google if you don't understand Google SEO in the first place, and technically, you can still do really well on Google without any SEO plugin. However, I find an SEO plugin to be really helpful in helping me organize my SEO goals within WordPress, which in turn helps me send the right signals to Google. It can also be very helpful with various technical things, such as setting up redirects. All in all, it's a really good idea to have an SEO plugin installed, even if you don't fully understand how to make the most of it yet.

Here are a few of the most popular free SEO plugins:
Free WordPress Live Chat + Support Tools
More Helpful Free WordPress Plugins
Free Blog Analytics Tools
These tools can be used to help you see how much traffic (visitors) you're getting to your site, where it's coming from, which pages visitors are landing on and a bunch of other really helpful info!
Some of these tools are totally free, and some have free plans, so make sure to pay attention to free plan limitations, such as number of allowed page views or "actions".
Free Blog + Social Media Graphics Design, Branding, Templates, Video Tools
Free Graphics Design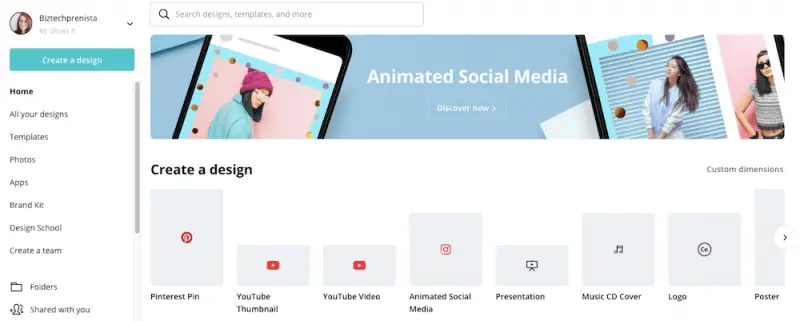 Check out Canva, best all-around free design tool ➝
Related Post >> Best FREE Canva Alternative Graphics Design Tools Compared
Free Logo Design + Branding
NOTE: None of these logo makers are appropriate for creating a truly unique logo you can trademark. However, most bloggers won't need to do this so these logo templates are fine.
Free Video Recording + Editing Tools
Free Images for Bloggers (Commercial Use, No Attribution Required)
These sites include images you can use on your blog and social media for free, with NO attribution required — meaning you don't have to link to them or give credit in any way, just go ahead and use them!
*Note that most of the free graphics design tools mentioned above include free images you can use built in!
Free Blog Marketing Tools (SEO, Email, Social Media)
Free Social Media Collaboration Tools

Shares (so far) on a couple of my recent pins, in just ONE of my Tailwind tribes!
Free Email Marketing Tools
*NOTE: In order to start sending emails to your subscribers, you'll need to set up a custom email address using your domain name. Many web hosting providers like Siteground will allow you to do this for free as part of their service, though long-term it is probably a good idea to have your email hosting separate from your blog hosting. You'll also need to use a physical mailing address, so if you don't want to use your home address you may want to purchase a local P.O. box.
>> TIP: ConvertKit lets you use their physical address in your emails, even on the free plan!
Free Social Media Management Tools + Schedulers
Related Post >> Best FREE Pinterest Schedulers Compared
Google SEO (Search Engine Optimization) Research
When you're first starting out, you might be wondering how the heck you're going to get anyone to come to your blog. It took me a while to figure that out for myself, but here are the methods that have been the most effective for this blog (keep in mind that my niche and type of content might be very different from yours).
Best Free Blog Planning, Organization + Productivity Apps
Best Free Blog Writing Tools
Helpful Free Chrome Extensions for Bloggers
Some of these may be available for other browser extensions, but I use Chrome almost exclusively so these are mostly links to Chrome extensions.
More FREE Super-Useful Tools for Your Blog or Online Business
2 Things You Should Always Pay For as a Blogger
I hope you're encouraged by all these amazing free tools because I know how overwhelming and discouraging it can be when you're just starting out with little to no budget, and you're not even sure how this blogging thing is gonna pan out!
However, while there are a LOT of things you can use totally for free, if you're serious about giving your blog a fair shot at success there are a couple of bare-minimum expenses:
1. Professional Domain Name (i.e. yourblogname.com)
This is the absolute bare minimum!
Trust me, you DON'T want to start with a subdomain like yourblogname.weebly.com or something similar if at all possible. In fact, if you really need to start off on a free web platform like Wix or Weebly (which I don't recommend, but it's better than not starting at all!), then at least pay to opt for the custom domain option.
Your own domain name will likely cost you $10 or less the first year, and I highly recommend you go with Namecheap to host your domain. Here's why.

Find an available domain name on Namecheap ➝
2. Web Hosting (to host your website and all the files on it)
This will generally only apply if you're self-hosting your site on WordPress.org, which is my top recommendation. Self-hosting your site will open up lots of possibilities, and give you more flexibility as far as what you are and aren't allowed to include on your site, such as ads and affiliate links.
You can technically get web hosting for a couple of dollars per month (if not less), but I've learned the hard way that this isn't something you want to skimp on!
In fact, if you never pay for anything else in your business besides a domain name and hosting, a great web host can not only save you hours if not days of wasted frustration, but it can help you confidently get over the initial "tech hump" that can be so confusing and overwhelming for new WordPress bloggers.
I've used Siteground for years and can vouch for their amazing customer support!
Wrapping Up
Phew! There you have it — 100+ FREE tools you can use to help get your blog off the ground!
If you appreciate this post, please share it!
And check out these related posts for even more great freebies and offers for bloggers:
>> The Best Blogging Tools with Free Plans to Grow With You
>> Limited-Time Freebies + Discounts for Bloggers Happening Now!
I plan to update this post as I find more great free tools for bloggers, so make sure to bookmark and pin it for later! 🙂