NEW! Tailwind Free Plan (+ $15 Credit)!
My favorite PAID Pinterest scheduler now has a completely free forever plan, which brings it to the top of this list!
I plan to do a more in-depth update on the free version of Tailwind soon, but in the meantime I wanted to offer you a free $15 credit when you sign up for new Tailwind account, in case you ever decide you love it enough to upgrade to a paid plan later! It will remain in your account until you're ready to use it!
Feel free to go and play around, or check out my other posts about Tailwind for Pinterest to help you get started!
FREE $15 Tailwind Coupon!
Start a FREE Tailwind account, get $15 credit towards a paid plan!
---
You're looking for the best FREE Pinterest scheduler . . . if such a thing exists.
After BoardBooster's rise and tragic fall, you're keenly aware of how important it is to stick to Pinterest-approved schedulers only . . . at least now you are!
You've seen a million blog posts recommending IFTTT as [the] free Pinterest scheduling solution, but you're not feelin' it . . . I hear ya!
For all of the reasons above and more, I've been on a several-year hunt for just ONE simple way to schedule pins for free, and I'm happy to say I've got THREE legit and free Pinterest scheduling tools to introduce to you in 2020!
I'll be giving a brief comparison and overview of each of the 3 tools and how to use them, and showing you what to realistically expect from a free scheduler vs. a paid option. I'll also share my favorite tip for generating lots of free shares for your pins!
>> TIP: This post will be a meaty one, so feel free to use the links above and the back-to-top arrow in the bottom right corner of your screen to help you navigate!
Why I Went Looking for Free Pinterest Schedulers
I actually started looking for free ways to schedule my Pinterest pins back in 2016 when I was first dipping my toe into the blogging world. Everyone was raving about Pinterest as an amazing way to generate traffic, but all of the free social media schedulers I found didn't seem to include Pinterest.
Working with a Tight Budget
I was desperate for a FREE (or at least a nearly-free) solution starting out, because I already felt anxious about the few regular expenses I'd accumulated for this new and untested venture.
I tinkered with various free trials until I felt comfortable investing in Tailwind, but I've periodically Googled over the past few years, hoping something new would pop up.
That's how I know that until recently, there hasn't been a good free way to schedule Pinterest pins — that is, not an official Pinterest-approved way. The only free options seemed to be manually hacking something together with IFTTT or manual pinning.
I already knew about some great paid alternatives, such as Viraltag and Smarterqueue, but I was super pumped to also discover not one, but THREE ways to schedule to Pinterest for free, by the book, without any manual hacking.
SIDE NOTE: If you're stressed about blogging expenses or aren't even sure what you need yet, I've got a huge list of other great blogging tools you can use for FREE to get you started (over 100 of them)!
The Scheduler I Use Now
As I just hinted above, I do now use and heavily rely on Tailwind — a paid scheduler — for my 2 blogs. Frankly, I got to a point where relying on manual pinning and free schedulers just wasn't cutting it, and I needed more flexibility with scheduling limitations to be able to bulk schedule ahead of time.
But beyond that, I've also come to really appreciate additional features that Tailwind offers such as SmartGuide, which is Tailwind's "robot" that pops up all over the place to give tips that help keep me following Pinterest's best practices, and Tailwind's awesome built-in stats that are often difficult to find elsewhere (like their new "top pins" tab). Plus, I really find Tailwind Tribes helpful for getting additional traction on my pins, especially for this blog, which I haven't found to be in the most Pinterest-friendly niche:)
I'll talk more about tribes later in this post, because technically you can use them totally for free, even without a paid Tailwind account! (and psst… if you're wondering, Tribes are the "bonus" method I'll be talking about!) But that said, I highly recommend that when it's time to upgrade to a paid scheduling tool, you go with Tailwind!
If you like, you can try Tailwind totally for free with no time limit!
You'll get 100 free scheduled pins to use up as quickly or slowly as you like, and you'll also have access to Tailwind's awesome stats and other Plus features during that time!
FREE $15 Tailwind Coupon!
Start a FREE Tailwind account, get $15 credit towards a paid plan!
Importance of Using Pinterest Approved Schedulers
So what do I mean when I say scheduling pins "by the book?"
I mean scheduling according to Pinterest's rules.
While there are quite a few Pinterest-approved schedulers now, you might be surprised how many popular schedulers aren't official Pinterest Partners. And there are very few free options on that list.
I have a feeling more and more apps will seek out Pinterest Partner status, for fear of being penalized or shut down altogether by Pinterest (RIP BoardBooster).
*NOTE: Just because a scheduler isn't a partner, it doesn't mean that scheduler isn't "approved" and safe to use. But I like to start with partners because then there's no question!
Pinterest-Approved Schedulers
Pinterest is not here to mess around with tools that don't play by its rules.
Pinterest only wants pins to be pinned on their own platform, or via an approved partner that has set up their Pinterest scheduling to work properly with Pinterest's API (the tech that allows the two apps to connect and "talk" to each other).
It's just not worth it as a content creator and business owner to risk your pins being unknowingly scheduled in a shady way, potentially making your content more likely to be marked as spam, or just not prioritized in the Pinterest algorithm.
Thankfully, Pinterest has made a publicly-available list of approved marketing partner schedulers that do play by the rules. There may technically be other tools that are approved by Pinterest another way, but these are the tools I prefer to stick to when I'm not pinning directly on the Pinterest platform — if for no other reason than their "approved" status is the easiest to confirm.
A couple of tools on that list allow you to schedule a limited number of pins for FREE. I'll be talking about those below, as well as how to schedule directly from Pinterest, and my favorite free way to encourage OTHER people to schedule your pins to their accounts!
So, without further ado…
What are the Best FREE Pinterest Scheduling Tools?
Here are the free Pinterest scheduling tools I'll be covering in this post:
Pinterest's Native Scheduler
Hootsuite
Later
Bonus method that will get OTHER people to schedule your pins to their Pinterest accounts!
I'll be giving an overview of each scheduler, including how to get started with it and any unique features I noticed.
But first, I'll briefly cover what each of these free schedulers has in common; namely, their drawbacks as compared to using a paid solution.
What These FREE Schedulers Have in Common
Each of these schedulers have similar features and drawbacks (compared to paid options), including:
Limited # of pins that can be scheduled at a time or within a specific time frame
Scheduled pins must be manually uploaded (no extensions, repins, pinning directly from sites)
Not ideal for scheduling other people's content (because you have to manually upload)
Pins cannot be "looped", or automatically pinned for you again in the future
No "recommended timeslots" – You must manually pick a time for each pin
None are the best choice as a paid solution (so when you're ready to upgrade, you'll probably want to use a different tool)
Drawbacks of Using Free Pin Schedulers
Of course, there will be drawbacks to using these FREE schedulers – they will still require more "manual" time and effort to get pins scheduled and maintained than paid versions.
With free schedulers, you will pay in extra time and manual effort. You also won't be able to leave them fully on autopilot for long periods of time.
Also, none of these apps would be my first choice as a paid solution, because they will still be more clunky (require more manual effort) than other paid solutions. But heck, these free Pinterest schedulers are better than nothing when you're starting out, and much improved from previously available options, IMHO.
With that said, let's dig a little deeper into each of the free Pinterest scheduling methods.
Method 1: Schedule up to 30 Free Pins at a Time (Up to 2 Weeks Ahead)
This first method is unique in that it's no third-party scheduler is required – it's done right from within any [business] Pinterest account, on web or iOS!
If you're new to scheduling pins, this will probably be the simplest way to get started since you don't have to register for and learn a separate tool.
Overview of Pinterest's Native Scheduling Tool
Schedule up to 30 pins, up to 2 weeks in advance
Only works for Business accounts
Cannot use browser extension (must upload)
Cannot schedule "Save from Site"
Be careful with Title vs. Rich Pin info (see below)
*Only Business accounts can schedule in Pinterest:

Scheduling Within Pinterest
You can schedule up to 30 pins at a time right from Pinterest. However, they can only be up to 2 weeks in advance.
Also, when I tried to schedule later on the same day, I was told to choose a "future date," so it appears that you have to choose the next day as the soonest date when trying to schedule.
Adding Pins to Your Pinterest Schedule
Click the + symbol in the top right navigation or your dashboard, and click Create Pin
Upload an image or video
Enter the destination url (i.e. your blog post or another page on your site)
Enter the description info *see below
Choose the Publish at a later date option and enter a date and time (next day or within the next 2 weeks)
Currently, it appears the only way you can schedule pins within Pinterest is to upload an image. Ways that DON'T work with the native scheduler are:
Repinning a current pin
Browser extensions
"Save from Site" option when manually creating a new pin
Rich Pin Text vs. Manual Pin Title and Description
If you have rich pins enabled, you may not want to fill in the "title" field when creating a pin. If you do, that title will replace your rich pin title. But if you leave the title box blank, your rich pin title will appear as normal.
On the other hand, since Pinterest is now really encouraging that we create more fresh pins (i.e. new images) as of early 2020, you might want to experiment with different pin titles for different images that lead to the same post. I am! 🙂
PRO TIP: If you're using a plugin like Tasty Pins, you can now add custom pin titles to different pin images on your WordPress blog posts, as well as custom pin descriptions!
You can and should still fill in the Description text when manually creating a pin, because this does not replace your rich pin description. If you fill in the description box only, your rich pin title and description should show up as normal, AND the regular Pinterest description will show. *NOTE: as Pinterest is always changing things, you may want to test this from time to time to see how it's working now.
Whether scheduling pins or simply pinning a manually created pin, this tip applies.
It also applies to editing a pin that's already posted.
Method 2: Schedule up to 30 Free Pins at a Time (No Time Limit?)
Hootsuite's FREE plan includes up to 3 social media profiles and 30 scheduled posts at a time.
The unique benefit of Hootsuite's free plan is that the 30 posts don't seem to be specific to a timeframe (such as 30 posts per month), there just can't be more than 30 posts scheduled at a given time! Therefore, if you wanted to, you could schedule all 30 posts in one day and come back after they've posted to schedule all of the next day's posts. Or, you could schedule 4-5 posts a day and come back to fill your queue once a week.
how to add pins to your Hootsuite schedule:
Sourcing and Editing Images in Hootsuite
Hootsuite has a built-in image editor AND image library, provided by Pixabay (Pixabay images are free to use for commercial purposes).
If you wanted to, you could create a pin from scratch right from within Hootsuite by choosing an image, resizing the image by either choosing one of the many social media sizes provided, or manually cropping. Then, you can add text, change the filter, and more!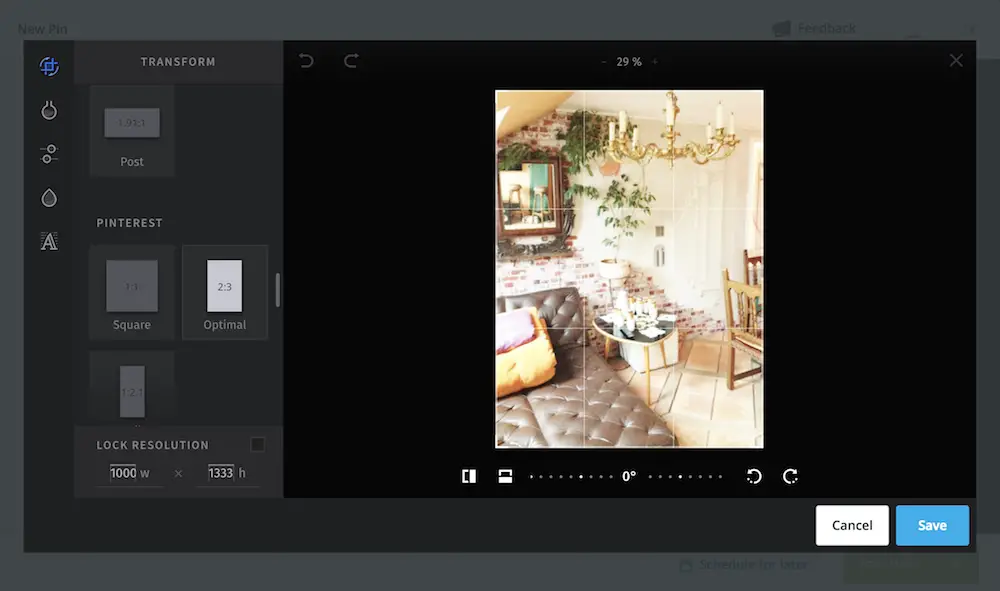 Method 3: Schedule 30 Free Pins a Month
With Later, you can schedule up to 30 pins per month, so essentially 1 pin a day.
That might not sound like much, but since Pinterest cares more about consistent pinning than quantity of pins, you'd be better off pinning 1 pin a day than 30 pins once per month! And if you're new and don't have a lot of content anyway, using Later could help you make sure what you do have is being dripped out consistently. Just make sure you log back into Later at least once a month and refill your schedule!
Overview of Later's FREE Plan
30 Free Scheduled Posts / month (resets each month)
Upload Images (can reuse later) and Drag to Calendar
Can Save and Reuse Pin Descriptions (see below)
Can Lookup and Re-Schedule Pins
A Unique Later Feature: Saved Captions
Later has a cool feature called Saved Captions that allows you to save little blocks of text. For Pinterest, these could be used as your pin descriptions! This can save you time if you're uploading multiple pins for the same post – just create a saved caption with your pin description and use it with multiple pin images. You could title the caption the title of your post (or a shortened version that you'd understand) so you can quickly search for it when you need it again.
A Quirk Worth Noting About Later
Since Later is largely focused on Instagram, you may be required to have an Instagram account and download the Later app on your phone before you can even access your Pinterest schedule within Later. At least, that's what seemed to be the case for me, because I couldn't find a way to bypass a notice asking me to verify I had the app installed on my phone. Once I did that I was able to schedule for Pinterest with no problem.
I just wanted to mention this as a consideration for those who don't already have an Instagram account and don't plan to open one. That said, if you do use Instagram or were planning to start anyway, you may as well give Later a try for scheduling to Instagram — you get 30 Instagram posts for free too!
BONUS Method: Get OTHER People to Schedule Your Pins for Free
*Now that Tailwind has a completely free plan, some of the info below may no longer be relevant, but you can still use Tribes (Communities) for free as part of the free plan!
Full update coming soon…
---
Tailwind Tribes (now called Tailwind Communities) are free for anyone to use, even if you don't pay for Tailwind (BUT there is a right way to use Tribes free), and they are my favorite free way of getting the word out about a new blog post!
While this method has little to do with scheduling to your own Pinterest account, it DOES have to do with getting your content in front of more eyeballs, because it means more pinners will schedule your pins to THEIR accounts.

Shares (so far) on 2 of my recent pins, from just ONE of my tribes!
To get started with tribes you'll have to first sign up for a Pinterest Tailwind account.
FREE $15 Tailwind Coupon!
Start a FREE Tailwind account, get $15 credit towards a paid plan!
Note that when your free month and/or free scheduled pins are used up you can still use tribes, but it will work a little differently. See my post on using Tailwind Tribes without a paid Tailwind account for more info.
Tip: While you can't continue to schedule pins for free with Tailwind after your free trial, there are still some things you can do for free. Check out this post for ways to "manual pin" with Tailwind.
How Can Tailwind Tribes Get You FREE Promo?
With the free Tailwind Tribes plan, you can join up to 5 tribes, and submit up to 30 pins per month across all of the tribes.
The way it works is you sign up for a tribe that's relevant to your niche, submit your pin(s), and assuming your content is a great fit for the tribe (and vice versa), it's likely that someone will share your pin to THEIR Pinterest account — if not multiple people!
You'll also be expected to share other people's content, at least as much as you make submissions (It doesn't have to be from the same people who share your pins – but if you can return the favor it's nice). Each tribe will have its own rules – some have a 1:1 sharing ratio, some 1:2 and so on. I've found that I generally have the most success in tribes with 1:1 ratios.
I've sometimes gotten loads of shares on a single pin submission (and sometimes no shares at all on a submission), and the people sharing often have way more followers and reach than I do! However, I'm not picky about sharing only big-name pinners, as I sometimes get just as much reach for my own pins from smaller pinners like myself.
Also See >> How to Use Tailwind Tribes for FREE (the Right Way)
Another Free Scheduling Method: IFTTT
IFTTT is not a Pinterest Marketing Partner like the schedulers mentioned above, but that doesn't mean Pinterest will penalize you for using (and it doesn't mean they won't). Either way, I personally see it as a more roundabout and cumbersome way of scheduling pins, as it's not specifically made to be a social media scheduler.
If you want to look into using IFTTT to schedule pins, you can find plenty of tutorials online walking you through using IFTTT with Pinterest. And here's some info directly from Pinterest about connecting your account to IFTTT.
I don't recommend relying too heavily on IFTTT if you're serious about growing your presence on Pinterest, simply because it's not built to specifically optimize for Pinterest. But it could be useful for things like scheduling Instagram posts to Pinterest, or even automatically pinning new blog posts to Pinterest if you'd really rather be very hands-off with Pinterest but still have some kind of presence there.
Pin Schedule Ideas for Using a Free Pinterest Scheduler
Since each of the free schedulers will limit the number of pins you can schedule, and also will require you to actually upload images to be pinned rather than pinning from sites or from Pinterest, your scheduling strategy will likely look different than it would if using a paid "power" scheduler such as Tailwind.
Should You Schedule Other People's Content?
Pinning other people's content with free schedulers will likely be a waste of time because you'll have to manually upload their pins and link to their pages, and this will eat up your limited schedule slots. If you don't yet have any of your own content to post, this may be worth it to you. Otherwise, I'd recommend using your scheduling slots to make sure your own content is being circulated regularly, and then just manually pin other people's content as you find something worth pinning.
Pinterest values YOUR content over other people's content pinned to your account, and also prefers that you pin REGULARLY even if that means once or twice a day vs. 50 pins all at once.
In other words, it's much better to pin ONE pin every day than 30 pins once a month. If you're using a FREE pin scheduler like Later, 1 scheduled pin a day is all you get anyway (30pins/month), so you want to make sure you're prioritizing your own best and freshest content in your limited timeslots wherever possible. Then, if you don't log into Pinterest for a month, at least you've had one of your own pins posted for you every day while you were gone.
A Potential Strategy for New Bloggers:
When you're a new blogger you may not have much content yet, but it's still important to make sure you're pinning consistently, even if that means only one pin a day. If you don't have enough of your own content to fill out your schedule (say 30 days worth), you might want to schedule in some other people's content, just to keep the consistency going.
Example Schedules:
To schedule one pin a day for a month, you could use either Later or Hootsuite.
To schedule several pins each day, a week at a time, you could use either the native Pinterest scheduler or Hootsuite.
To schedule 30 pins each day, you can use Hootsuite (just note that you'll have to log back in each day to create a new schedule for the next day).
You could use all 3 schedulers at the same time to try out different strategies, and be able to schedule more content in the process.
Number of Pins vs. Pinning Frequency
As you may have noticed, the more frequently you're able to log in and update your schedule, the more pins you will be able to schedule for free each day or week. However, while it may be tempting to post as much as you can right away, keep in mind that pinning consistently (and keeping your sanity!) is more important than quantity of pinning, so pace yourself!
If you're a new blogger really low on your own content, I'd recommend using Later to schedule 1 pin each day of the month, and otherwise manually pinning. That way, you can make sure you'll have 1 pin going out each day, and you don't have to stress too much about it until the next month.
It's probably a better use of your time to be creating more content that can then be added to your pinning schedule ASAP than to be stressing about creating the perfect pinning frequency! The more of your own content you have to pin, the better Pinterest will be able to work for you, so creating as much quality content as you can should be your first priority starting out.
Daily New Pin Strategy:
New bloggers could benefit from this strategy (this could be your 1 daily pin), but more established bloggers can benefit as well, especially if they aren't creating as many new blog posts anymore.
Since Pinterest has made it very clear that it wants NEW content as much as possible (rather than repinning your same posts over and over), you could use a free scheduler to plan out a week or month's worth of NEW pins at a time, and aim for 1 new pin a day. This could be a new pin image for a current blog post, or even a totally new blog post each day if you're that ambitious! You can totally experiment with changing up your pin titles and descriptions as well to try and optimize for different keywords, but the most important things is to create new images since that is what Pinterest considers "fresh".
You could utilize Later's 30 pins a month to do this, and also use one of the other schedulers to schedule out any other special or repeat pins you'd like.
"Loop" Certain Pins in Advance (for a Promotion, etc.)
While you can't continually loop pins with any of these free methods, with Hootsuite you can schedule a limited number of pins multiple times over a longer period of time. Just keep in mind that you are limited to 30 total scheduled pins at a time, so the longer you spread out those scheduled slots, the longer you'll have to wait to be able to schedule something else.
Let's say you have a pin that you really want to make sure gets posted regularly over the next couple months – say once a week. You could schedule that one pin once a week for up to 30 weeks in a row! Or, you could schedule 5 different pins once a week for up to 6 weeks in a row, etc.
Or say you have a product launch coming up a couple months from now and you have several pins that you'll want to be scheduled ahead of time on specific dates. You could do that with Hootsuite as well!
Wrapping Up
I hope this post has inspired you to check out one or more ways to start scheduling your Pinterest pins for free!
Also, don't forget to try Tailwind for Pinterest FREE! 😀
FREE $15 Tailwind Coupon!
Start a FREE Tailwind account, get $15 credit towards a paid plan!
Also don't forget about all these other free blogging tools to check out!
If you found this post helpful, I'd be super appreciative if you'd share it! 😀
More Pinterest Tips
>> The Right Way to Use Tailwind Tribes for FREE
>> How to "Manual Pin" with Tailwind for Free
>> Overlooked Pinterest Hacks for Bloggers