Note: I apologize in advance for all the "quotation marks" in this post. I got carried away! 😉
Manual Pinning vs. Tailwind for Pinterest
Typically, manual pinning doesn't mean "using a scheduler to manually pin in lieu of pinning directly on Pinterest." Manual pinning (without a scheduler) has become popular among bloggers, largely due to this awesome course!
And yet, there are times when you might want or need to "manual pin" with a scheduler like Tailwind.
New to Tailwind? You can get started for free with a Tailwind for Pinterest account!
FREE $15 Tailwind Coupon!
Start a FREE Tailwind account, get $15 credit towards a paid plan!
Here are 3 reasons I have personally used Tailwind to manually pin:
1. "Repinning" Your Own Pins with the Tailwind Chrome Extension
Since Pinterest has hinted that they don't love it when you repin content from your own boards directly from Pinterest (or at least, it's not likely to help you), you can use an approved Pinterest scheduler like Tailwind to help – even if you want the pin to post right away.
While Pinterest likes "fresh" content (i.e. new images), you may still want to be able to pin the same pin regularly over time, especially to encourage Pinterest to properly categorize new pins, and hopefully give them greater reach.
MARCH 2020 Update: Just wanted to note that since Pinterest now recommends not pinning the same image to more than 10 boards, I'm trying to repin my own same images less (whether directly on Pinterest or with Tailwind) and create more fresh pins. The below tip about "steering" new pins may still apply… but then again if Pinterest just isn't getting the image after 10 boards it might be best to just create a new one anyway 🙂
Of course, you could just schedule the pin to multiple boards at once, or even set it to loop and be done with it. But lately, I like to keep an eye on what's happening with a new pin (Is it showing up in search, the home feed, and related recommendations? If so, where is it showing up? Are it's "related" pins and keywords that show up below the pin on Pinterest actually relevant or do I need to help Pinterest figure out what the pin's about?) and "steer" it as I go by repinning to relevant boards and updating pin descriptions if needed.
How to Manual Pin with the Tailwind Chrome Extension
To "manual pin" right away with the Tailwind extension, you can send it to your schedule and then go to your schedule in Tailwind and click "pin now." Or, you can do what I generally do, which is just "schedule" the pin for a custom time, 1 minute in the future 😉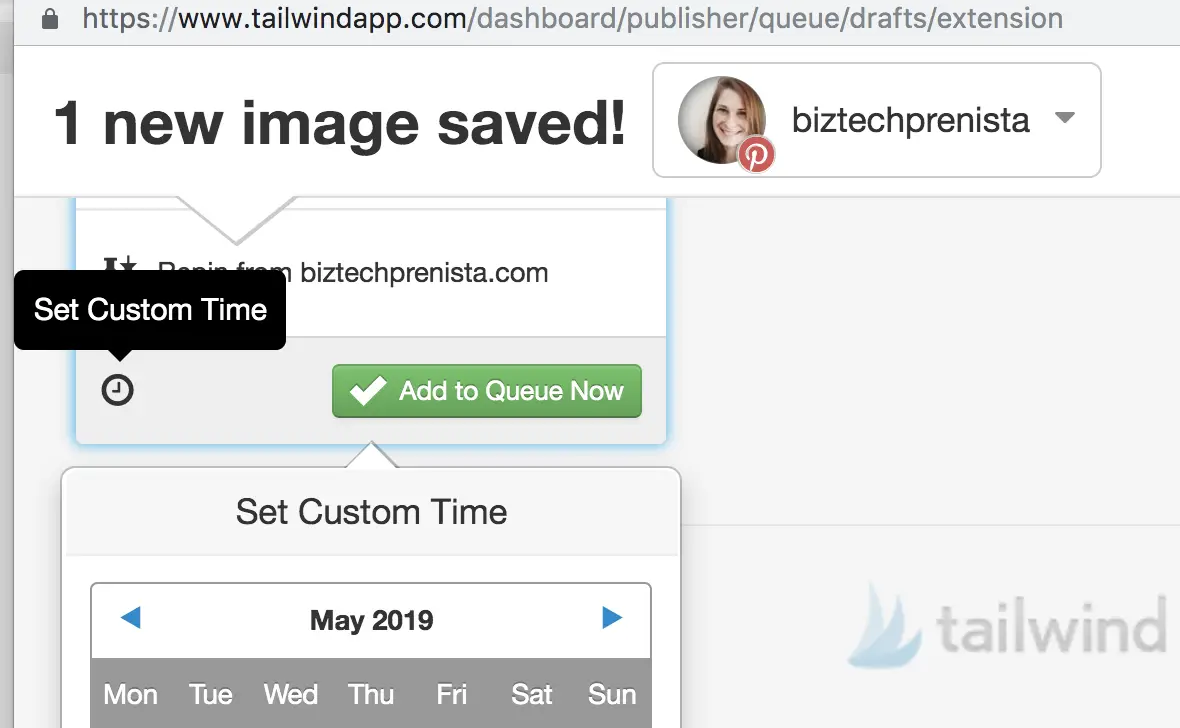 Is Repinning with Tailwind Worth It?
While using Tailwind to repin doesn't count as a true repin (but rather a fresh copy [not the same as a true fresh pin though]), I do believe it still helps with the aggregate pin count on a pin. And when you're paying attention to what's happening with a pin, you're able to help "steer" it in the right direction to getting properly indexed by Pinterest and found where you hope it will be found.
I'm not sure if it really matters whether you just re-schedule a pin from the Tailwind dashboard or repin from Pinterest, but I generally find it easier to go directly to a pin on Pinterest and repin it from there – whether via the Pinterest save button or the Tailwind browser extension. However, since Pinterest doesn't prefer that we repin our own pins from our own boards, I avoid doing this directly on Pinterest. So If I want to repin from own of my own boards, I use Tailwind.
And maybe it's just for my own peace of mind, but I often like to repin from somewhere "good" — i.e. if my pin shows up in the search results for a keyword I was targeting, I want to pin it right from the search results. Or if a pin on a particular board seems to be getting more attention than other "versions" of the pin (because aggregate pin counts aren't perfect), I want to repin that specific version to try and keep the momentum going.
I sometimes do manually repin my own content on Pinterest from OTHER people's boards using the Pinterest save button, per Carly's manual pinning strategy.
But if there are no relevant repins or shares on my pin yet, or if I see one of my pins (from my own board) show up somewhere good and want to try and encourage Pinterest to keep it there, I might use Tailwind's extension to schedule it to another board later, or pin it right away (1 minute in the future).
Plus, if you're worried about keeping track of which boards you've already pinned to, Tailwind helps you by putting a yellow box around a board you recently pinned to from that same URL (not necessarily the same pin image):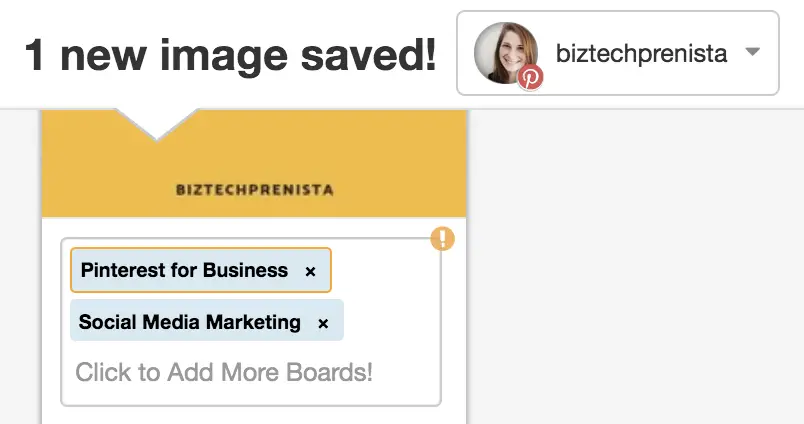 You can even click on the exclamation mark icon to see how long ago you pinned to that board (or multiple boards)!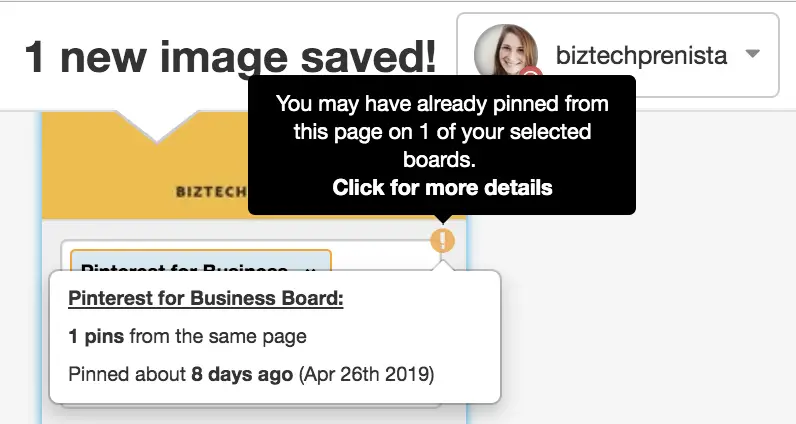 Note: this handy little alert does not take into account pins that you already have in your Tailwind queue, only pins that have already posted. It also counts ANY images that are leading to the same URL, so if you're pinning a brand new image with Tailwind you might still get this notice, but it's perfectly OK to pin the new image close to another image that leads to the same URL.
2. Storing Pins to Manually Pin Later (for FREE)
***QUICK UPDATE: Tailwind now has a completely FREE forever plan, which includes limited scheduling! Therefore, some of the info below may no longer be relevant (will update more soon). In the meantime, give the new free Tailwind plan a try!
FREE $15 Tailwind Coupon!
Start a FREE Tailwind account, get $15 credit towards a paid plan!
---
Not ready to pay for Tailwind Scheduling?
You can still use Tailwind for free after your Tailwind trial ends, with limitations. You won't get all the fancy bells and whistles like analytics and of course, scheduling. But, you can in effect "store" pins you want to pin later, and then manually pin them from your Tailwind account at the right time. You can upload pins to Tailwind, or you can use the Tailwind extension.
Saving Pins for Later with the Tailwind Chrome Extension
You can use the Tailwind extension to save pins to Tailwind, even if your Tailwind trial has run out. I tested this as you can see with this screenshot (note I have used up all of my free scheduling slots):
Here's how to save a pin to your Tailwind queue from the extension and manually pin it later:
Step 1: "Schedule" a pin with the Tailwind Extension
Use the green Schedule Now button to move on to the next step quicker, or you could use the Save for Later button to send the pin to your drafts.
Step 2 : Go to Scheduled Tailwind Pins
When you're ready to pin, go to your Scheduled Pins in Tailwind (https://www.tailwindapp.com/dashboard/publisher/queue/posts/scheduled)
Step 3: Pin Now Button
Find the pin you want to pin, hover to the right of it and click the green Pin Now button.

3. Pinning from Tailwind Tribes (for FREE)
Tailwind Tribes are my favorite way to get some free promo for my pins, via shares from other pinners in my niche or related niches! It's also a great place to find highly relevant pins to mix in with your own content, and even network with other pinners via chat.
You can use Tailwind Tribes for free (up to 5 tribes and 30 total pin submissions per month), BUT it involves manually pinning from Tailwind to play by the rules and not annoy Tribe admins and members.
>> Learn more about how to properly share pins from Tailwind Tribes for FREE
Don't forget to try the new Tailwind for Pinterest FREE plan!
FREE $15 Tailwind Coupon!
Start a FREE Tailwind account, get $15 credit towards a paid plan!
More Pinterest + Tailwind Tips
>> How to Find Your Top (Most-Clicked) Pins in Tailwind
>> 5 Good Reasons to Pin New (Fresh) Pins Through Tailwind
>> 3 of the Best FREE Pinterest-Approved Pin Schedulers